Decision-making processes within companies and other organizations rely heavily on the knowledge that decision makers have about the reality where the company acts (markets, customers, producers, etc.). Much of this knowledge can be drawn from data resulting from normal business activity that are continuously accumulated by transactional information systems. Efficient and effective analysis and processing of such data for actionable knowledge may result in better performance of the organization.  The data analysis process includes various statistical and data mining (data exploration) techniques, specifically targeted for the extraction of actionable knowledge from large volumes of existing data. All that knowledge extracted from the data provides, ultimately, support in decision making. According to a recent report by the McKinsey Global Institute this is the age of analytics since companies and other organizations are competing in a data driven world.
Maria Eduarda Silva
Director of the Master in Data Analytics
Masters > Master in Data Analytics
1st Year
1st Semester
Name
Credits
Data Mining I
6
Data Bases and Programming
6
Applied Statistics
6
Data Analysis
6
Laboratory
6
2nd Semester
Name
Credits
Data Mining II
6
Optimization
6
Forecasting Methods and Time Series
6
Electives to be chosen subject to the approval by the Scientific Committee of the programme
12
2nd Year
1st Semester
Name
Credits
Seminars
6
Quantitative Case Studies
9
Dissertation/Work Project/Internship Plan
9
Electives to be chosen subject to the approval by the Scientific Committee of the programme
6
2nd Semester
Name
Credits
Dissertation/Work Project/Internship
30
Masters > Master in Data Analytics
Student profile
The Master in Data Analytics is intended for decision-makers wishing to add value to their strategic capabilities by taking advantage of decision support and data analysis systems, as well as specialists in information processing wishing to participate in the development of computational systems for business intelligence and decision support. Our current and past students are now:
Project Managers (Sonae, Banif, INE, Farfetch)
Business Intelligence Managers (NOs, Continente)
Credit Managers (Credifin)
Data analysts (Bank of Portugal, Banif)
Managers and developers of websites (INE)
Members of teams developing advanced decision support applications (Unicer, Sonae / Enabler, Sonae / Celdata, Siemens)
Researchers and professors
Graduates

Masters > Master in Data Analytics
Career opportunities
The Master in Data Analytics is designed for those who wish to promote their professional development, as well as those who need a basic scientific and technical training to update their knowledge about the latest advances in the respective areas. The industries where the knowledge and the techniques can be applied are diverse. They include distribution, banking, manufacturing, insurance, transport, industry, retail, services (including health) among others.
EMOS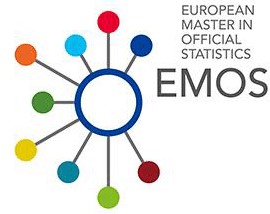 The EMOS (European Master in Official Statistics) label may be obtained by the students who choose the relevant set of modules.
The European Master in Official Statistics (EMOS) was launched by Eurostat and the European Statistical System (ESS) in 2014 aiming at including official statistics in statistical curricula to meet training and recruitment needs in the ESS and constituting a future recruitment pool of highly educated professional statisticians for the ESS and the European System of Central Banks (ESCB).
More info here.
Masters > Master in Data Analytics
Application
Exclusively online
The application will be exclusively online.
It is compulsory to read the notice in advance.
Deadline
1st Call: 1st March 2021
Credentials
If you are (or were) a student or employee of U.PORTO, you must use your credentials. You can login using the authentication form.
If you do not have a username, please complete the user request form. A username and password will be sent to your e-mail address.
If you have a temporary username, you can retrieve the password here.
Documents to submit
They are described in the Notice, which must be read before submitting the application.
Make your application online
After the application
Provisional results posting: 05 April 2021
Display of final results: 27 abril 2021
Performing registrations:
28 April 2021
27 May 2021 (graduates)
2 August 2021 (finalists)
The applications for the Master in Data Analytics for the academic year 2021/2022 are closed.
If you wish to apply, you will have to do it for the 2022/2023 academic year. Applications usually start in January.
We recommend you to pay attention to our website. You can fill the contact form if you wish to receive information from FEP.
Masters > Master in Data Analytics
Testimonials
"I decided to enroll in the Master in Data Analytics because I wanted to expand the analytical knowledge gained during the bachelor's in Economics at FEP. With this master, I learned advanced Data Analysis and Data Mining techniques that allowed me to extract useful information from Big Data to solve complex problems. I consider this master a great investment, as Data Science experts are in need in nearly every job sector and there is a shortage of people with the necessary skills to take those positions. Hence, if you have a passion for math, statistics and information systems, I kindly advise this master to be the next step in your academic path."
"My decision to enrol the Data Analytics Master was motivated by the wide range and relevance of the subjects covered. My expectations were fully met. The excellence of the Faculty has enhanced the acquisition of skills. The heterogeneity of student affiliations has enriched discussions and expanded my network of contacts to new groups. Overall, it was an enriching experience which resulted in significant personal and professional development."